Welcome to Carmel-By-The-Sea
Founded in 1913, Carmel-by-the-Sea, CA has long been cherished as a casual, artistic village that's tucked into an idyllic corner of the California coastline, between San Francisco and Santa Barbara. Visitors and locals alike enjoy taking leisurely strolls between the art galleries, wine tasting rooms, and family-owned restaurants in downtown Carmel. At the bottom of the hill lies one of the best beaches in the US – Carmel Beach – which boasts expansive views of Pebble Beach, Point Lobos, and spectacular sunsets over the Pacific Ocean. You'll often see people walking their dogs along the beach, with surfers and dolphins playing in the waves - these being some of several perks of those who buy homes for sale in Carmel-by-the Sea. As people walk the quaint streets and admire Carmel-by-the-Sea's real estate, they'll notice a devotion to architecture, in particular, the " Gingerbread House" style of the Carmel cottages, each with their own name as houses in downtown Carmel don't have physical addresses.

Artists who originally built homes in Carmel-by-the-Sea named their homes instead of giving street names. That is why there are no home addresses.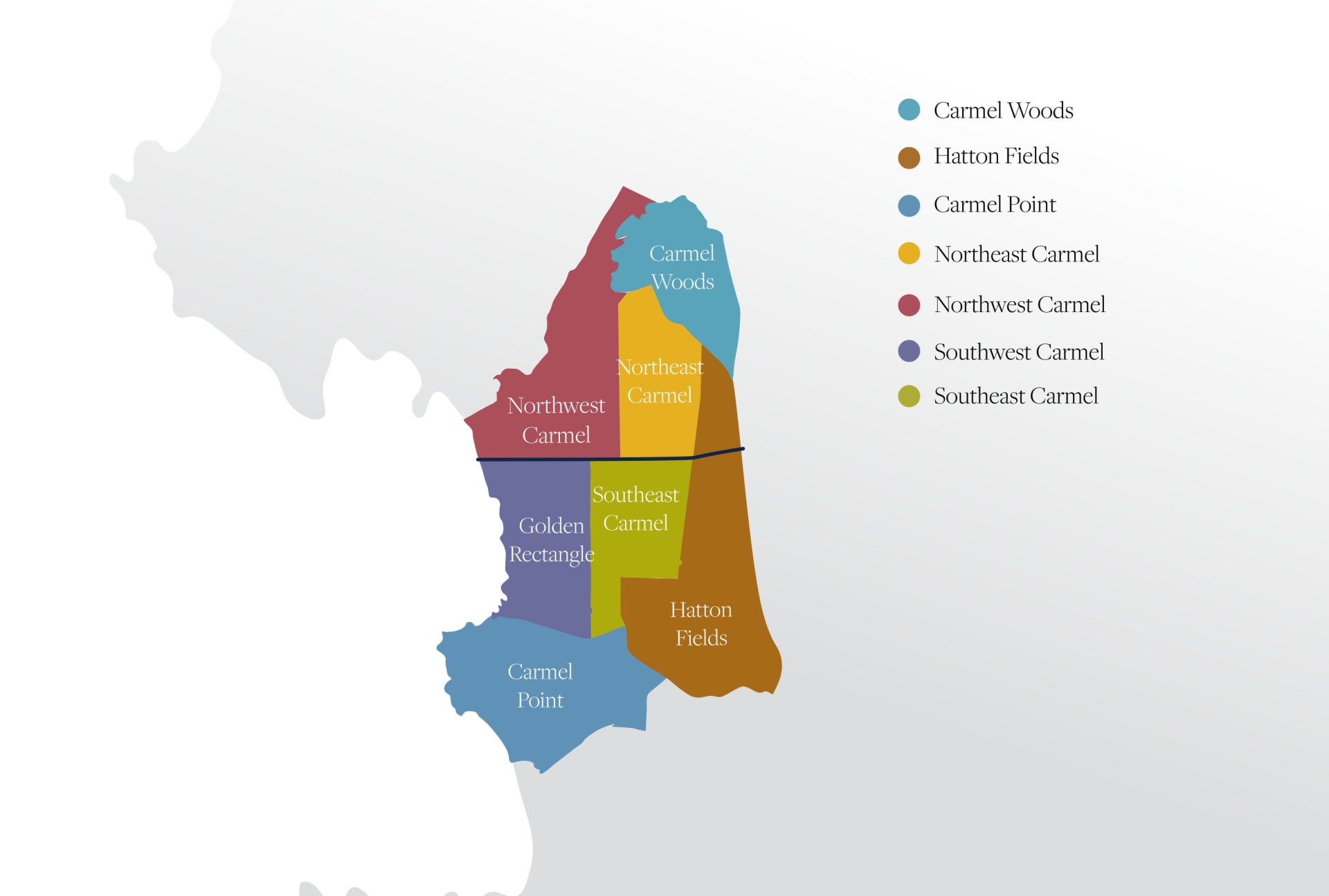 Carmel Point
Tucked between Carmel Beach and River Beach, this region of downtown Carmel is actually an unincorporated part of Monterey County, as opposed to the City of Carmel so this area does have addresses and any permits must go through the County. The tree-lined streets are perfect for walking as they're more level than the Golden Rectangle and there's a pleasant loop around Scenic and Carmelo that a lot of the locals take each day. One of the benefits of Carmel Point over other regions is that the lot sizes are larger than the rest of Carmel, so you can get bigger homes than the standard 1600 square footage, with additional yard space. Additionally, there isn't as much tourist activity so there tends to be a more local vibe on the Point. However, you are a little bit farther from town for coffee in the morning (about 8 blocks) so people tend to take cars to and from Ocean Avenue. Although the level topography makes for more usable yards and an easier stroll around the neighborhood, it also means that fewer homes off Scenic have ocean views, so if an ocean view is a requirement, you're probably looking at the Golden Rectangle or Northwest Carmel.
Southwest Carmel
The "Golden Rectangle" is located in the SW corner of Carmel and is generally considered one of the most desirable locations due to the close proximity to Carmel Beach and a short walk to the restaurants on Ocean Avenue. The average lots are 40'x100' each which many people love because it's just enough yard for their dogs to enjoy and do a little gardening. The average house size is typically around 1,600 square feet with a one-car garage. There is a slope downhill from town to the beach which provides for some ocean views from the houses, most frequently from the upstairs level. Some of the best ocean views, when it comes to Carmel-By-The-Sea's homes for sale, run along Scenic Road - right across from Carmel Beach - which can drive the prices of those homes up significantly.
Northwest Carmel
Considered by some as one of the best-kept secrets in Carmel, the NW region of Carmel runs north of Ocean to Pebble Beach and from Carmel Beach to Junipero. Although the topography of this region isn't as level as the Golden Rectangle, it does offer a similarly close proximity to the beach and Ocean Avenue. Most often tourists tend to stay south of Ocean Avenue, so it's easier to find parking and is much quieter than other neighborhoods. Recently, a large Eucalyptus grove was removed on the west side of San Antonio, which has opened up some ocean views to more properties in this neighborhood, although they're most often filtered. This tight-knit neighborhood tends to have slightly larger lots and homes than the rest of Carmel so it's a bit more likely, when looking at Carmel-By-The-Sea's houses for sale, that you can find more than the area's standard 3 bed and 2.5 bath single-family homes.
Hatton Fields
An ideal location for those looking for a more full-time, family friendly neighborhood, this area is located just west of Highway 1 and offers much larger lot sizes, yet is still a short walk down the hill to restaurants. This area tends to have more sun and is a bit warmer than properties closer to the water, so many of the founding families actually started down on Carmelo and Scenic and moved up the hill to a larger estate. There are several streets that get expansive ocean views and some that look over Point Lobos and Fish Ranch, but for the most part, it's a forested neighborhood feel that people are drawn to.
Carmel Woods
Located just west of Highway 1 and looking back towards Pebble Beach and downtown Carmel, this quiet community combines the best of both worlds. Many of the homes are slightly larger and some even have ocean views, all while being 3 minutes to downtown Carmel.
Northeast Carmel
Located north of Ocean Avenue, but east of Junipero Street, this quaint section of town combines the best of downtown Carmel living. Homes in the area can come with lower price points, yet you gain more privacy.
Southeast Carmel
One of the hidden treasures, just a couple of minutes from Ocean Avenue. You're close to the infamous Forest Theatre, which is one of the oldest outdoor theaters west of the Rockies. It's a short, relaxing stroll to the fun happenings of downtown. You also have the beautiful Mission Trail through redwood groves and a carefully managed path to Carmel Mission.