Welcome to Pebble Beach
Pebble Beach, CA is a gated, incorporated community located on the Monterey Peninsula between Pacific Grove and
Carmel-by-the-Sea
. A community of over 4500 residents, the Pebble Beach real estate market can feature a variety of single-family homes, residences, and condominiums. Pebble Beach is sited on a forested hillside dominated by Monterey Pines overlooking the Pacific Ocean. It affords spectacular views of Point Lobos, Pescadero Point, and Cypress Point, with several beaches, an equestrian center, and hiking trails. There are two public schools serving Pebble Beach residents (Carmel and Pacific Grove), but is also home to Stevenson School, a boarding/day private high school. Different from most gated communities, there is public access to the "Forest" with a toll fee charged to non-residents.
It is also considered a small coastal destination with lodging (The Lodge at Pebble Beach, Casa Palmero Spa and The Inn at Spanish Bay), 8 golf courses and the infamous 17 Mile Scenic Drive which hugs the Pacific Coastline and passes golf courses, mansions, and many scenic attractions including the Lone Cypress tree (the logo of the Pebble Beach Company).
Of the eight golf courses, Pebble Beach Golf Links, The Links at Spanish Bay, Spyglass Hill, and "The Hay" Golf courses are owned by the Pebble Beach Company and are public courses. Poppy Hills is another public course, owned and operated by the Northern California Golf Association. Private courses include the Cypress Point Club, and the two Monterey Peninsula Country Club Courses (The Dunes and Shore Courses).
Two large, major events are held in Pebble Beach each year:
The AT&T Pebble Beach National Pro-Am has been an annual event since 1947. It has become one of the most internationally recognized stops on the PGA Tour, and supports hundreds of local nonprofit organizations.
The Pebble Beach Concours d'Elegance auto show has been held in Pebble Beach since 1950. The event focuses on classic cars, but also includes an auction, a classic car tour, and an automotive art exhibit.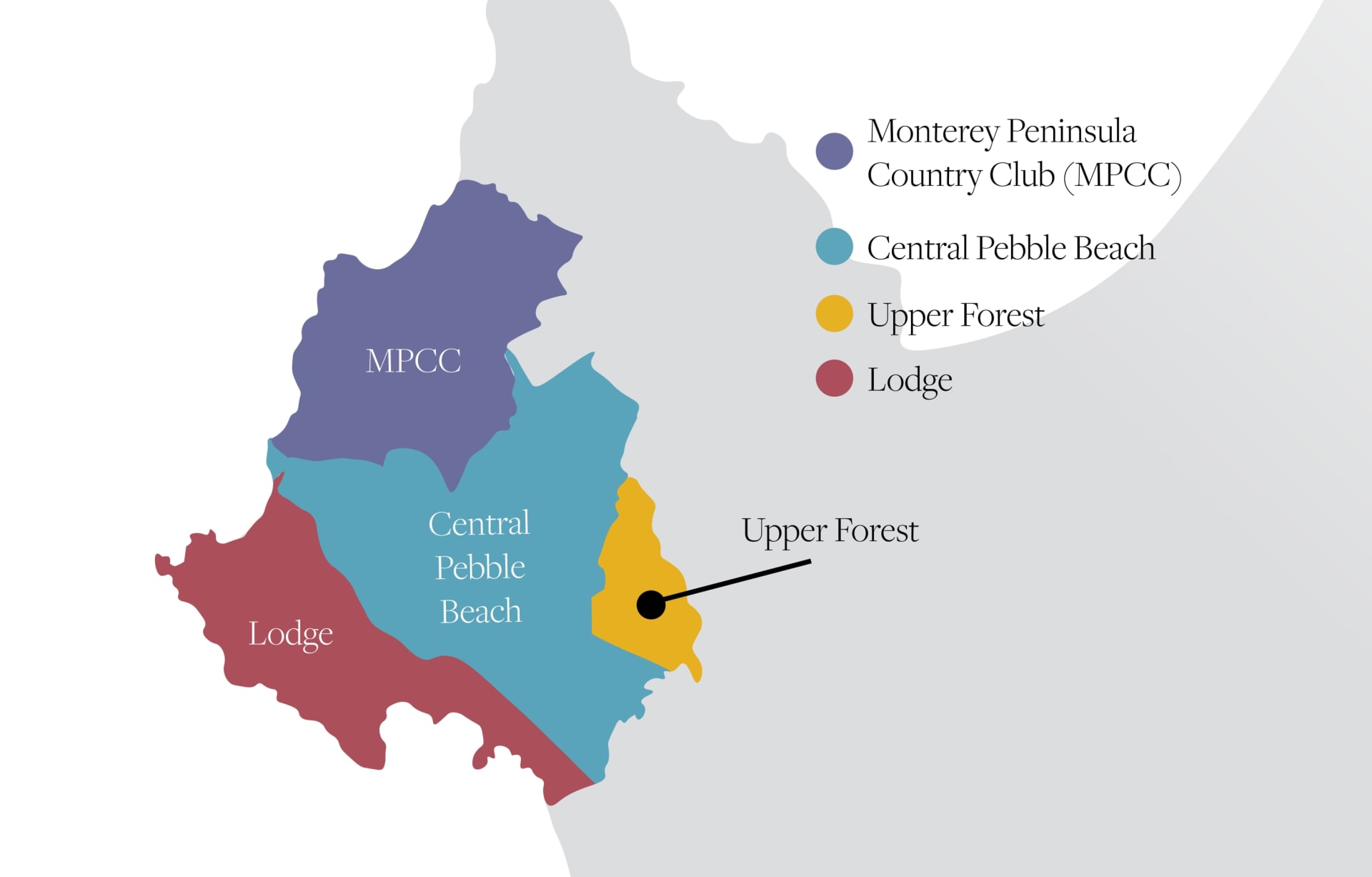 MPCC:
The MPCC area, which consists of two sub regions – Country Club West and East – encompasses the northern part of Pebble Beach and borders the beautiful coastal town of Pacific Grove. The MPCC area plays host to three top-100 golf courses, including the Dunes and Shore courses at MPCC (both private) and Spanish Bay Golf Links (public), which is part of the Pebble Beach Company.

Pebble Beach's real estate options in this area mostly consist of single-family homes ranging from early 1920's Spanish-Colonial styles along the golf course to traditional and ranch-style homes that were built for military veterans in the 50's and 60's. The northern access point for Pebble Beach's famed 17 Mile Drive starts at Spanish Bay and outlines the MPCC area's coastline – making for great walking trails – until it weaves into the Central Pebble Beach area. Local tourist attractions in this area include Bird Rock, Point Joe, The Inn at Spanish Bay (& adjacent Beach) and SFB Mores Botanical Reserve.

There are 83 golf front properties with ocean views along MPCC and 162 additional golf front homes along the coveted Shore Dunes courses. The average building and lot sizes for MPCC's golf front properties are 2,769 and 10,434 square feet respectively. The homes average 3 beds and 3 full baths.
Lodge:
There are only a select number of properties that are truly considered to be Pebble Beach oceanfront. These historic properties are front row to some of the most spectacular views in the world. There are 28 properties (8 homes have adjacent lots) that are oceanfront on the iconic 17 Mile Drive. The average building and lot sizes for oceanfront properties are a commanding 8,321 and 103,949 square feet respectively.
Considered one of the best in the world, the Pebble Beach Golf Links is steeped in tradition and prestige like no other. Only 48 properties (2 homes have adjacent lots) line these historic holes and bear witness to the exquisite beauty that Pebble offers. Interestingly, the golf front properties are significantly smaller than oceanfront with average building and lot sizes of 7,306 and 69,422 square feet respectively.
Central Pebble Beach:
Since its opening in 1919, The Pebble Beach Golf Links has captivated audiences around the world with its stunning oceanfront design that's perfectly weaved into this area's captivating rugged coastline. Centrally located within Pebble Beach, the community that surrounds this world-famous golf course (and Lodge) is also home to the iconic Lone Cypress Tree (Pebble Beach's Logo), which is located around the corner on 17 Mile Drive near the ultra-exclusive Cypress Point Golf Club (private), Spyglass Golf Links (public) and "The Hay", a 9 hole par 3 course designed by Tiger Woods.
Architectural styles of Pebble Beach's homes for sale in this area can range from classic early 20th Century Spanish-Colonial estates to Luxurious European-style homes to current-day Modern Masterpieces. You will also find the properties in this area to be larger in size (both home and lot SqFt) and many host sweeping ocean views overlooking Stillwater Cove, Point Lobos, and Carmel Bay.
Other tourist attractions in this area include The Spa at Casa Palmero, Pescadero Point, several white-sand beaches, and plenty of furry-tailed neighbors (many native deer live amongst the Monterey Pines and Cypress Groves in Pebble Beach).
Upper Forest:
The Upper Forest area, which is also known as 'Shepherd's Knoll', gets its name from Abraham D. Shepard, who designed the original Scenic route that winds its way through this area atop Pebble Beach. In the early 20's an artist depicted this road with sheep and a shepherd in the view and the name became what it is known as today. This area is home to Poppy Hills Golf Course (and NCGA's headquarters) as well as an extensive network of hiking and equestrian trails. Residents in this area enjoy closer access to Highway 1/68 and the cities of Carmel and Monterey.
Being at the top of the Pebble Beach forest, properties can host spectacular views overlooking the Del Monte Forest, Monterey Bay, and Carmel Bay to the south. Most of the homes in Pebble Beach's Upper Forest area are also surrounded by beautiful Monterey Pines which create the forested ridgeline that's visible from both the north and south.