If you're an enthusiastic equestrian living near Carmel—or you're hoping to relocate yourself (and your horses) to this idyllic seaside community—this is the guide for your next adventure. Carmel and the surrounding area have an abundance of horse-friendly trails awaiting exploration, and each offers its own perspective on this prime stretch of California's beautiful central coast.


Equestrian Center at Saint Lucia Preserve
The Equestrian Center at Saint Lucia Preserve touts some of the most esteemed riding opportunities in Carmel-by-the-Sea. Situated on 20,000 rolling acres, this breathtaking coastal California landscape is a riding experience unlike any other. Tucked inside the prestigious gated community of the same name, Saint Lucia Preserve's trails take full advantage of the sweeping countryside and tranquil bucolic foothills while remaining steadfast about their mission for conservancy so that the landscape remains pristine for centuries to come.
Pebble Beach Equestrian Center
Pebble Beach Equestrian Center is located in Pebble Beach, approximately two and a half miles northwest of Carmel. Opened in 1924 as a boarding facility, the Pebble Beach Equestrian Center offers over 27 miles of trails that run into the Del Monte Forest, with daily tours helmed by the facility's professional guides. The stables have been home to thousands of renowned horses and evolved to include a horse rehabilitation program. Whether you want to ride one of the center's many horses or bring your own for a private lesson, Pebble Beach Equestrian Center is one of the best places to ride or board horses near Carmel.
Garland View Stables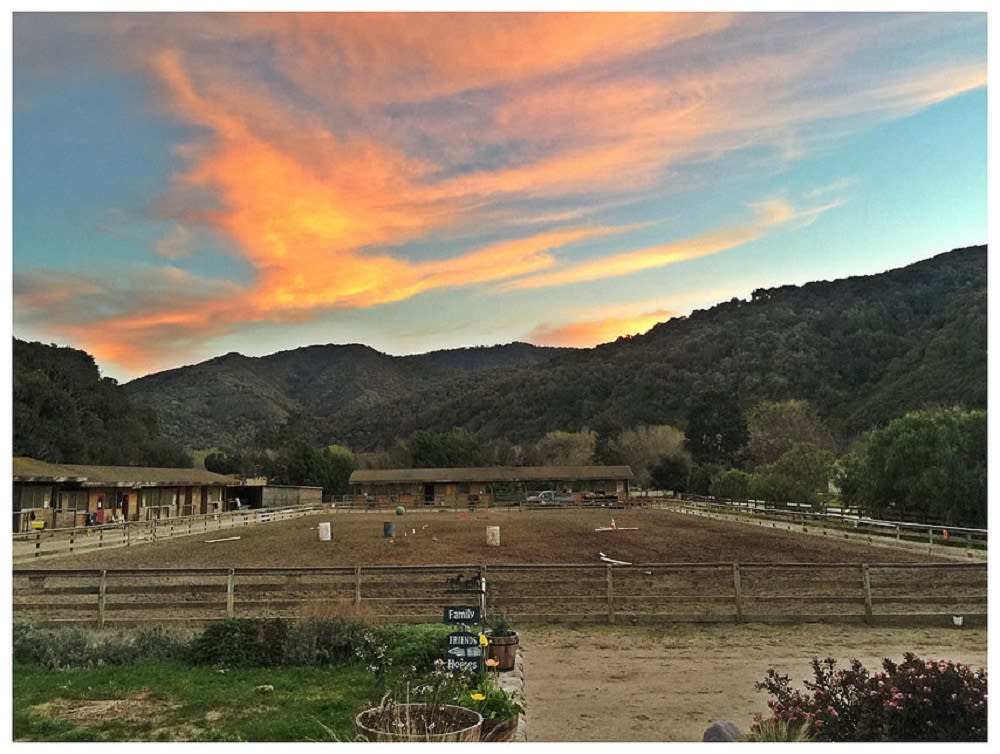 Photo courtesy of Garland View Stables' website

Located along Carmel Valley Road in Carmel, Garland View Stables offers superb service to owners and horses alike. Part of the Sunshine Ranch, the motto of Garland View Stables is "Sharing the Love of Horses"—and this ethos is woven into every amenity offered at the ranch. For those just getting into the equestrian lifestyle, Garland View Stables has horsemanship lessons that teach owners how to build a relationship with their horse and build communication. They offer horse boarding and horse training for everything from trail riding to groundwork. And for children not yet old enough to ride alone, Garland View Stables offers pony parties for birthdays that include pony rides and barnyard explorations. Garland View Stables is perfect for both beginners and experts.
Garland Ranch Regional Park
The first parkland acquisition by the Monterey Peninsula Regional Park District, Garland Ranch Regional Park is home to a diverse set of landscapes with just as diverse flora and fauna. This park is prime for exploration as there are numerous trails available that allow access to horseback riders. Garland Ranch Regional Park is open to the public and no permit is needed to ride at it, making it a charming place to spend time riding your horse and enjoying the beautiful scenery.
Mt. Madonna Stables
Located about an hour northeast of Carmel are the beautiful parks and trails surrounding Mt. Madonna. Near the mountain is Mt. Madonna Stables, which offers incredible trail riding experiences as well as other services for horses and riders. Aside from boarding options, pony parties, and training, one of the most popular activities at Mt. Madonna Stables are their trail packages, including rides for any skill level and age. No matter your rank, experience, or ability, Mt. Madonna Stables can take you for an amazing ride. Mt. Madonna Park is beautiful and expansive, including over 3,000 acres of forest and lots of running water for you to explore at your own leisure. If you're interested in exploring this scenic area with a guide, choose Mt Madonna stables for a fun, unique, and easy-going experience.
Morning Sun Ranch
Located on 30 acres of the Aptos Hills, Morning Sun Ranch is a great place to take your horse for a ride. Along with full-service boarding, Morning Sun Ranch offers lessons, training, and sales—so if you don't yet have a horse of your own, you can find one with Morning Sun's help. Aside from four barns and tacking and washing areas, the ranch has three grazing pastures and several miles of privately maintained trails perfect for riding. Best of all, these private trails run through some of the most scenic areas of the Larkin Valley Hills, so you can enjoy the tranquility of the landscape free of crowds.
Seahorse Equestrian Tours
Located in Prunedale (approximately half an hour away from Carmel), Seahorse Equestrian Tours is a great place to explore central California. Whether you want to improve your relationship with your own horse or rent one of theirs, there's something for any horse lover at Seahorse Equestrian Tours. Offering chances to explore both the redwoods and the beach, Seahorse Equestrian Tours wants to help any and all riders seeking to explore the equestrian arts. This location also offers equine therapy and special event packages. Check out their website for all their great seasonal tours, seminars, and events.
Shopping for a home in Carmel-by-the-Sea?
If you're looking for Carmel-by-the-Sea luxury homes or equestrian real estate near Carmel-by-the-Sea, contact Canning Properties Group. This team has deep, local experience in the Carmel and Pebble Beach real estate markets, and would be honored to be your guide.