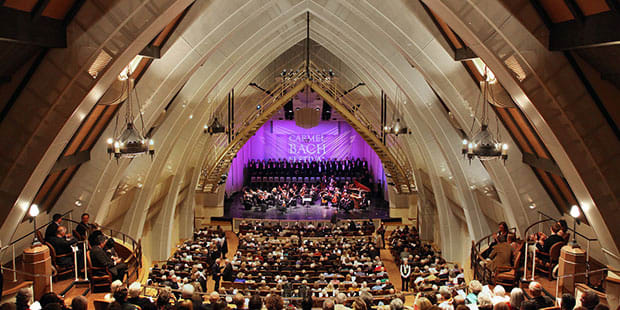 If you're looking for an incredible musical experience in the Carmel area, look no further than the
Carmel Bach Festival
! This concert series has been in operation since 1935 when it consisted of four musical days at venues like the Sunset School Auditorium and the Carmel Mission Basilica. At the time, performances were conducted by Ernst Bacon and Gastone Usigli. Drawn by the beauty of Carmel-by-the-Sea, Californians traveled to see this exciting multi-day concert experience that only grew larger as the years went on. The Carmel Bach Festival's mission is to celebrate and honor the work of noted composer Johann Sebastian Bach, aiming to educate concertgoers on the tremendous work he achieved throughout his lifetime—and the influence his music has on our culture even today.
The present-day Carmel Bach Festival lasts two weeks during the summer, featuring not just concerts but recital performances, master classes for talented musicians, lectures on a variety of topics, and open rehearsals where the community can come together to share their love of music. Today, the festival is headed by Music Director and Conductor Paul Goodwin. Even when the festival isn't running, Goodwin leads off-season community events, artistic programming, and activities to attract musicians from all walks of life.
What You Can Expect
While the Carmel Bach Festival was unfortunately canceled in 2020 due to COVID-19, music lovers can expect the popular festival to come back bigger and better than ever when it's safe for everyone to attend. Typically, the two-week festival happens between July and August and consists of over 40 spectacular events, from the main concerts to smaller chamber music performances. Bach lovers will delight in the free masterclasses and pre-concert talks that delve into all things classical.
The festival typically plays host to Metropolitan Opera superstar singers as well as world-class musicians and soloists such as soprano Mhairi Lawson, mezzo-soprano Meg Bragle, tenor Thomas Cooley, and bass-baritone Dashon Burton. Audience members will love the Saturday concerts, which shine a spotlight on Bach's most vibrant pieces—you'll definitely want to catch the fascinating period-instrument performances held on Sunday afternoons. More than 20 chamber music performances occur each weekday at the Sunset Center, and concertgoers can also enjoy a special family performance—an eight-year festival tradition.
Community Outreach
Several education programs are offered by the Carmel Bach Festival. The Carmel Bach Festival Young Artists Showcase is the perfect place for talented young musicians to show off their skills; through a competitive audition process in the spring, these elite students are chosen from the Central Coast Section of the California Music Education Association to perform at a special concert showcase during the actual summer festival. These young musicians receive photos and a recording of their incredible live performance.
The Crossing Cultures program is another popular way for young musicians to be more engaged with the community. Through this program, the Carmel Bach Festival chamber ensembles hold performances at approximately 15 schools in the Carmel area, presenting music from all over the world while allowing kids to be inspired and get excited about music on a global scale.
The Carmel Bach Festival also proudly hosts the
Cottages, Gardens, and Cantatas
event during the spring. This year, it'll be held from May 1st through 9th.
If you need assistance navigating the Carmel real estate market, contact
Canning Properties
today. Our team of experienced real estate agents will be happy to help you find the luxury Carmel home of your dreams!