Haunted Places in and Around The Monterey Peninsula
Situated along California's stunning coastline, Monterey County is celebrated for its breathtaking landscapes, pristine beaches, and charming towns like Monterey, Pacific Grove, Pebble Beach and Carmel-by-the-Sea. Yet, beyond the natural beauty and historic architecture, a different kind of allure lurks in the shadows - a realm of the unexplained and supernatural. Join us on a spine-tingling journey through the most haunted places in and around Monterey County.
Carmel Mission - Carmel-by-the-Sea: Although known for its serene beauty, Carmel Mission has its own spectral tales. Visitors have reported eerie apparitions of padres and Native Americans who once called this historic place home. Is it a trick of the mind, or do the whispers of the past still echo through its hallowed halls?
Stokes Adobe - Monterey: With a history dating back to the 1830s, Stokes Adobe is rumored to host several lingering spirits. Many have heard phantom footsteps echoing through empty rooms and felt inexplicable cold spots in the dead of summer. The stories behind these enigmatic occurrences are as old as the building itself.
Colton Hall - Monterey: Colton Hall stands as a symbol of California's early statehood. While it may house historical documents and artifacts, some believe it also harbors the ghosts of its former occupants, manifesting as unexplained sounds and spectral apparitions.
Fort Ord - Seaside: Once a bustling military base, Fort Ord now hosts more than just memories. Visitors and staff have reported paranormal experiences in the form of ghostly soldiers, eerie sounds of marching, and even phantom drills.
Ghost Tree - Pebble Beach: The Ghost Tree, also known as the "Witch Tree," is a striking cypress tree along the 17-Mile Drive in Pebble Beach. Local legend has it that this tree is haunted, and the area is said to be a gathering place for ghosts. Some have reported eerie experiences near this tree, including hearing ghostly whispers or feeling an inexplicable chill.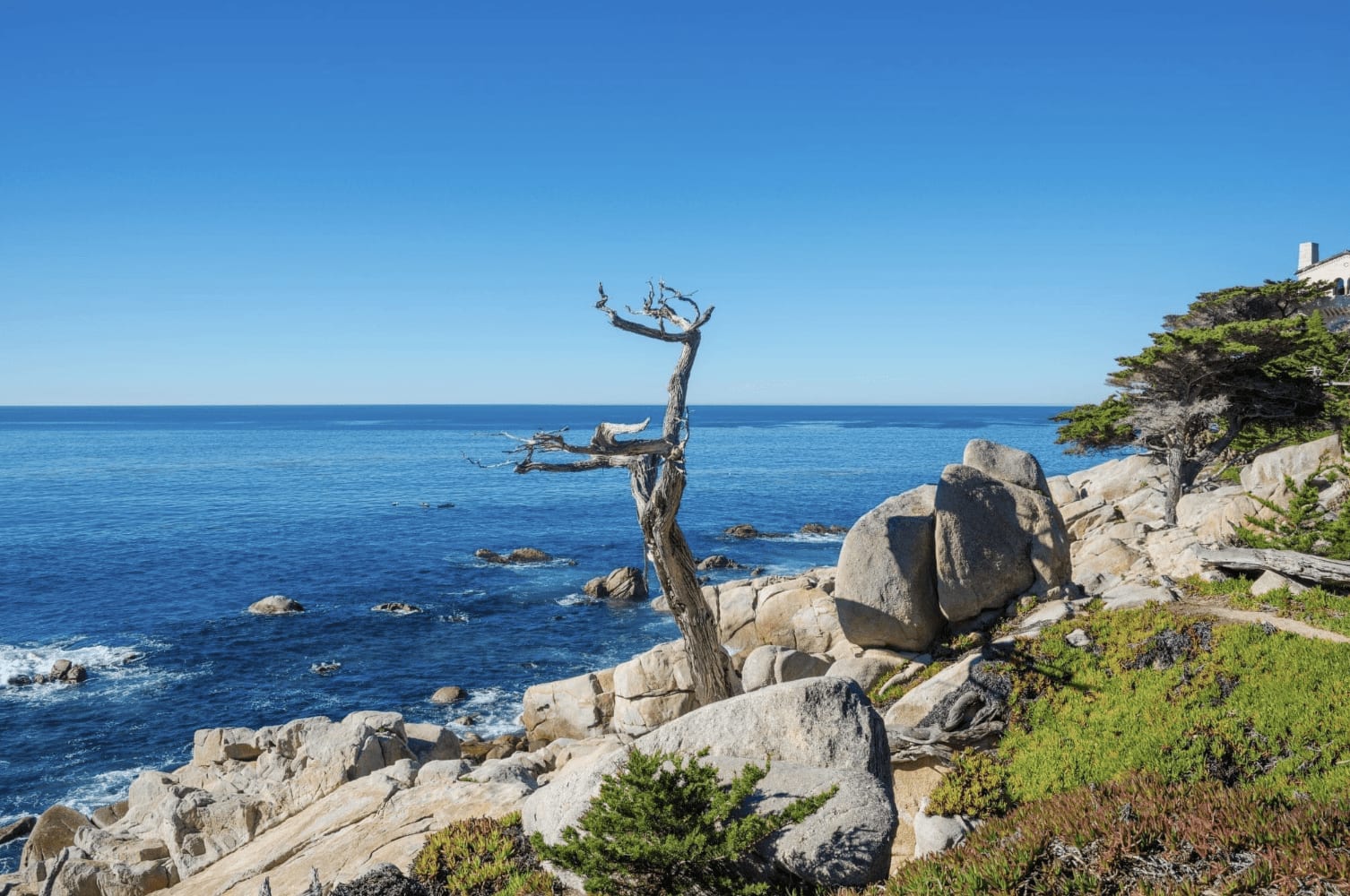 Photo from actiontourguide.com
Monterey Bay Aquarium - Monterey: As enchanting as it is during the day, the Monterey Bay Aquarium can take on a different character at night. Some employees have shared tales of hearing mysterious voices and witnessing ghostly figures roaming through the quiet exhibits.
Point Sur Lighthouse - Big Sur: Perched high on a craggy precipice, Point Sur Lighthouse has a storied history and its share of ghostly tales. Keep an eye out for the spectral light keeper who seems to still be at work, even from the other side.
Monterey Hotel - Monterey: This charming hotel has provided a respite for travelers since the 1900s. But some guests never seem to check out. Reports of shadowy figures, phantom laughter, and unexplained events continue to this day, ensuring that a stay here can be quite memorable.
Tor House and Hawk Tower - Carmel: Poet Robinson Jeffers' legendary home, Tor House, and the unique Hawk Tower have become known for their ethereal ambience. Visitors have felt the lingering presence of the poet and his family, as if their spirits still wander the stone walls.
Stevenson House - Monterey: Once the residence of Robert Louis Stevenson, author of "Treasure Island," this house is reputedly haunted. It's said that Stevenson himself, as well as other spirits, still find refuge within these walls. Many visitors have reported inexplicable occurrences, making Stevenson House a must-visit for those in search of paranormal experiences.
Cannery Row - Monterey: Cannery Row, a vibrant waterfront district today, has a haunting history from its days as a bustling sardine-packing center. Walk along the Row's picturesque streets at night, and you might hear ghostly echoes of the past. Some believe the spirits of workers and fishermen from the sardine era still roam the area, their memories forever etched into the brick buildings.
The Seven Gables Inn - Pacific Grove: This charming oceanfront inn is said to be home to a friendly ghost. Guests have reported experiencing unusual occurrences, such as the feeling of someone sitting on their beds or hearing footsteps in the hallways. It's believed that the spirit is that of a previous owner who loved the inn so much that he never wanted to leave.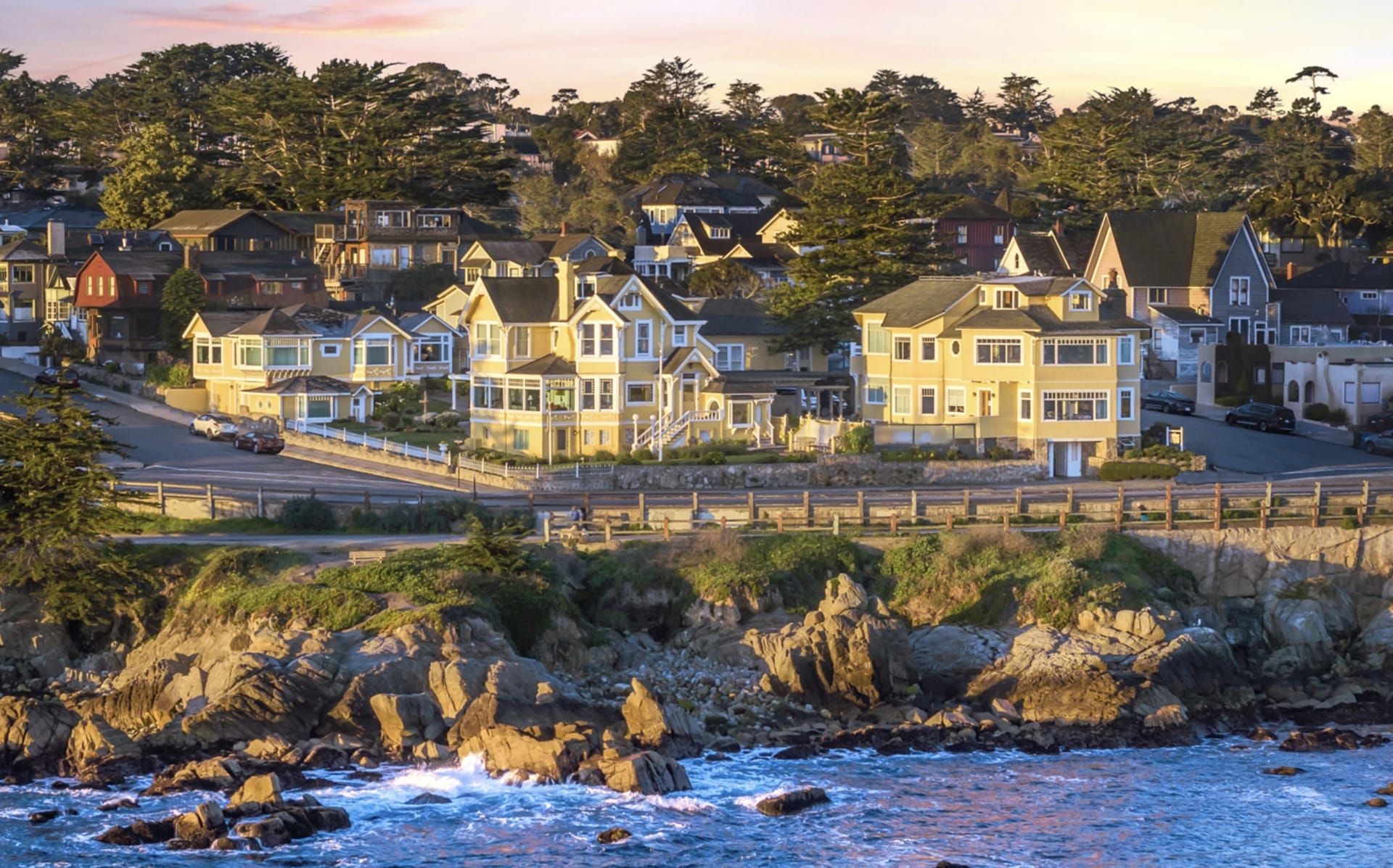 Photo from thesevengablesinn.com
The George Washington Inn - Pacific Grove: This historic bed and breakfast is rumored to have a ghostly presence. Visitors have reported hearing unexplained noises and footsteps, especially in the evening. Some guests claim to have seen the apparition of a woman in old-fashioned clothing. The inn's rich history and Victorian architecture only add to its eerie charm.
Peter Hay Golf Course - Pebble Beach: Pebble Beach's Peter Hay Golf Course, located near the famous Lodge at Pebble Beach, is said to be the site of a phantom golfer. The ghost is believed to be that of a caddy from long ago who enjoyed golf so much that he's still playing in the afterlife. Some golfers have claimed to see the ghostly figure swinging his club on the course.
If you're looking for a supernatural adventure, delve into a ghost tour of Monterey. Guides lead you through the city's historic districts, recounting tales of restless spirits and haunted houses. These tours provide a unique perspective on Monterey's history and are sure to leave you with hair-raising memories. If you're seeking an encounter with the supernatural, a visit to one of these haunted places might be your ticket to a spine-chilling experience you won't soon forget. But remember, you're in the realm of the unknown, where the line between the living and the spirits can blur in the most unexpected ways. Are you ready to explore the otherworldly side of the Monterey Peninsula?