LOCAL ROOTS, GLOBAL IMPACT:
I grew up in Monterey and as far back as I can remember, the Monterey Bay Aquarium has held a special place in my heart – for various reasons. I have endless memories of visiting with family and friends and have shared many "first" visits with the kiddos, which always makes the experience that much more memorable. However, the fact that my grandmother worked at the Hovden Cannery and a picture of her working is prominently displayed at the Aquarium makes any visit extra special for me.
THE BEGINNING:
Nestled in the heart of Monterey's Cannery Row, a stone's throw from Pacific Grove and a short drive from Carmel and Pebble Beach; The Monterey Bay Aquarium attracts thousands of visitors each year – introducing tourists from all over the world to this special place we call home. If you have lived on the Peninsula, there's a good chance the Monterey Bay Aquarium holds a special place in your heart. For many of us, the memories are fond. Whether it was school field trips as a kid or visits with family and friends, the Monterey Bay Aquarium has given us a lifetime of special memories. While the exhibits and wildlife are unquestionably impressive, the property alone is magical – as it sits directly on the Pacific Ocean with panoramic views of the bay and coastline as far as the eye can see. I think it's safe to say that a visit to the aquarium is an experience you will never forget.
I LOVE THAT PLACE:
Dare I say the Monterey Bay Aquarium is as synonymous with the Monterey Peninsula as Mickey Mouse is to Disneyland. I cannot tell you how many people I have met throughout my travels that when the topic of being from Monterey comes up, instantly say "I've been to the Aquarium there – I love that place." To those of you who travel and come across people from all over the world, I'm confident you've heard this same sentiment over the years as well. I think for many of us, it serves as a sense of pride having the aquarium in our own backyard. However, the global impact on wildlife and the memories it has created for so many families transcends far beyond just being a local attraction.
BACKGROUND:
Situated at the west end of Monterey's historic Cannery Row, the property where the Monterey Bay Aquarium is housed was once home to the Hovden Cannery – a bustling Seafood Canning Company that was opened from 1916 – 1973. For more than 10 years, this unique property sat vacant before it was given a new life. It wasn't until October of 1984 that the Monterey Bay Aquarium first opened its doors – sharing one of Monterey's most iconic pieces of real estate with the public and establishing a local legacy that would sustain for years to come.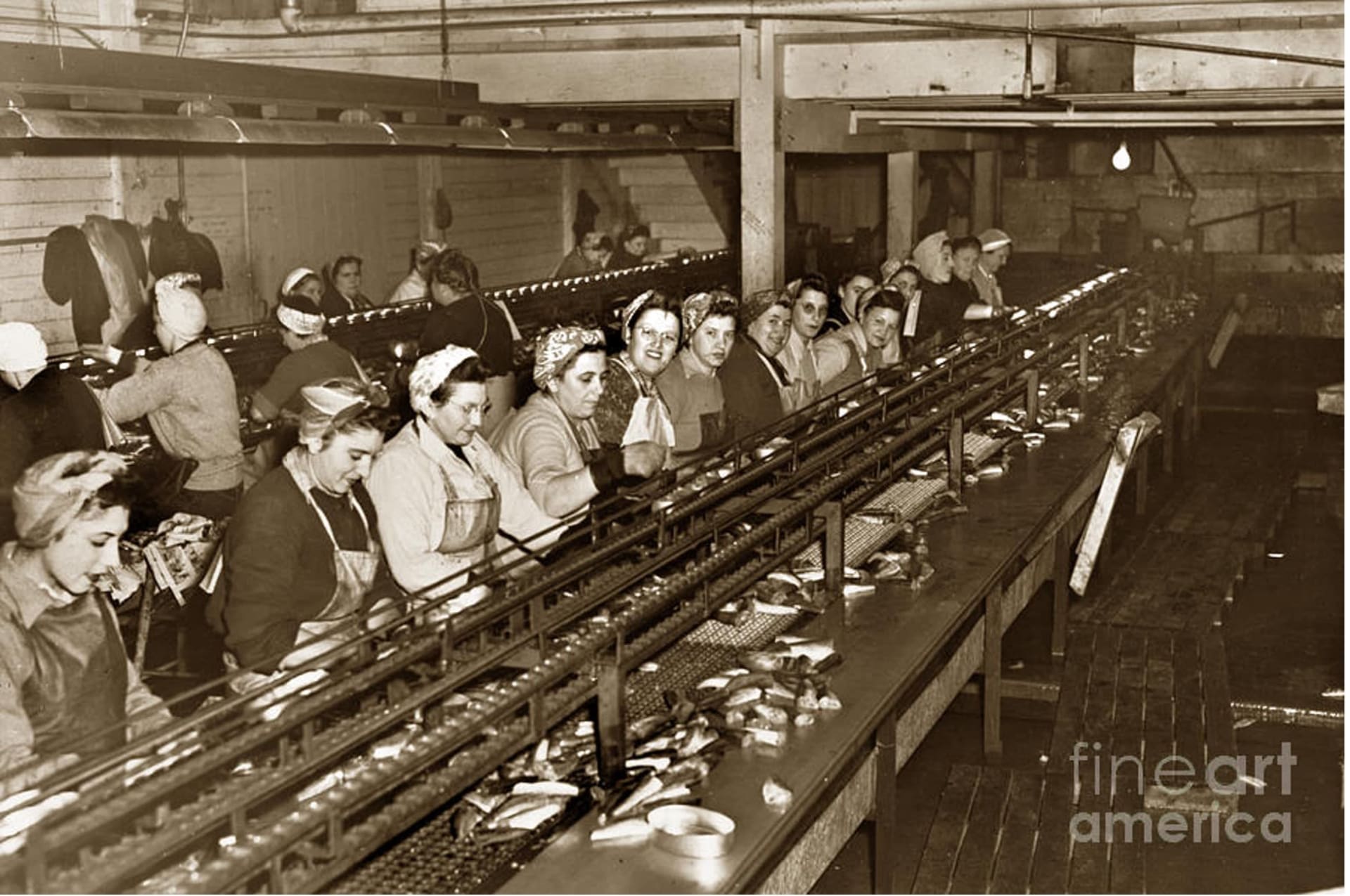 Ladies packing Sardines in one pound oval cans in one of the over 20 Cannery's Circa 1948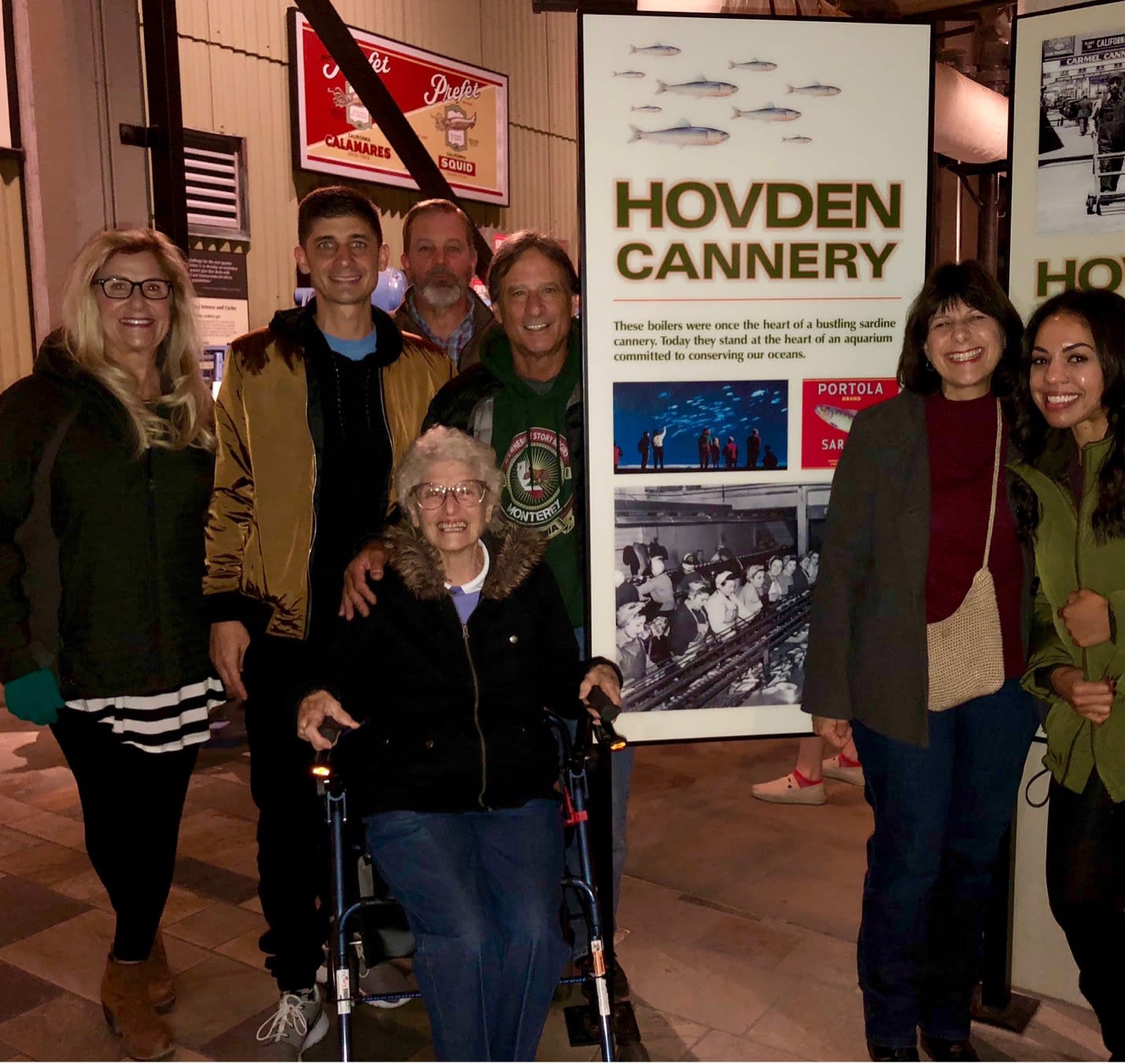 Nana Pettas alongside her picture at the Monterey Bay Aquarium
SUSTAINABILITY:
Today, the Monterey Bay Aquarium is a pillar in our community and a must-see attraction for anyone visiting the area. Home to a wide array of local and rare wildlife – the Monterey Bay Aquarium is now considered one of the preeminent aquariums in the world. Moreso, Cannery Row is so rich with history and stunning ocean views that it makes for an easy place to kill a little time before or after your visit. A quick stroll just outside the aquarium gives visitors a glimpse into the early days of California, with restaurants and shops still housed in original buildings from back in the day when John Steinbeck, Dock Ricketts and their misfit crews were prominent fixtures on the strip.
MAKE A DAY OUT OF IT:
Comparatively speaking, visiting the aquarium is a fairly seamless endeavor – especially when you consider most visitors have excited kids in tow. Parking is ample, whether on the street or in one of the parking garages close by. Walking the area is easy and there are a plethora of shops and restaurants close by to enjoy.
Because the members of the Canning Team all immensely enjoy visiting the aquarium, we thought you would enjoy some photos of special memories we've shared there over the years along with some insight into some of our favorite exhibits, restaurant's and must-do's while visiting Monterey's famous coastline.
SPIRO PETTAS
"Favorite Aquarium Exhibit: I've always loved the Leafy Sea Dragons, so when you visit be sure to check them out.
Dining: For a great dining experience (breakfast and lunch) just off the Cannery Row strip, head over to First Awakenings…it's three streets up from the aquarium (easy walk) and the food is amazing and the staff is even better.
Sites to See: If you get a chance, I would suggest heading over to the Monterey Plaza Hotel – the grounds and hotel are amazing and there's a small (somewhat secretive) beach below that is a hidden gem."
JESSICA CANNING
"Two favorites:
Hunting for the octopus with the kids. So much fun when they're social, but also very cool to see how they can blend into the rocks.
The bubble window in the Monterey Bay Habitats. It always feels like you're going to fall into the water.
The jellies are absolutely mesmerizing. Quiet area in a relatively new exhibit. Remarkable to watch how they're designed, how they move in the water, and all of the different lights/colors at play.
Trying to find the one sardine/anchovy that's swimming in the wrong direction (I like their style).
Food is very good, but it's important to time it right and not let the kids get too hungry or they get cranky."
KELLY SAVUKINAS
"Favorite Aquarium Exhibit: Deep Sea Exhibit
Favorite/Special Aquarium Memory: 1. My kiddos in the touch pools 2. Nighttime events when you feel like you have the entire Aquarium to yourself.
Dining: At the Café of course (especially when my daughter is working there).
Sites to See: The Jellies, penguins and feeding time for any exhibit."
MIKE CANNING
"I like the otters 😊"
Full disclaimer: THIS IS NOT AN AD and Canning Properties Group nor myself (Spiro Pettas) is being paid for this wonderfully insightful information.