Summer is finally here, and the world is reopening again, so now is the perfect time to start planning your summer adventures! Whether you are traveling solo or thinking up some fun family trips, there's plenty of fun to be had — starting at the Monterey Bay Aquarium. This world-class aquarium has just reopened to the public, so now's the time to get your tickets and see everything that awaits you under the sea.

From the best exhibits to the latest safety measures, here are some things you should know about the Monterey Bay Aquarium before you go.
1. The official reopening
After 13 months of being closed, the Monterey Bay Aquarium officially reopened to the public on June 15. This beloved aquarium averages 1.8 million visitors each year (with a record-high 2.1 million in 2015), and visitors flock here from across the state, country, and even the world. If you're already a member of the aquarium, you can rest assured that you will continue to have priority access. The first time slot of the day is at 10 a.m. and is reserved especially for members, allowing you to have a more private, laid-back experience. You can reserve member tickets now!
2. Reserving tickets
As you plan your trip to the aquarium, keep in mind that there are no in-person ticket sales. Tickets must be reserved in advance for a specific date in time. Tickets are now available through September 30. It is also important to note that on July 1, tickets will become available through December 31.

For an adult between the ages of 18 to 64, the price is $49.95 and $39.95 for youth (as well as for seniors over the age of 65). Tickets for children between the ages of 5 to 12 are $34.95. If you have children four or under, there's no cost for them. If you want to keep up to date on the latest announcements, you can do so by signing up for the aquarium's emails or following them on social media.
Dining
If you get hungry during your visit, head over to the Monterey Bay Aquarium Cafe. The cafe will be open for dine-in meals during your visit, so there's no need to go through the hassle of packing a lunch. You can easily place your order and pay for your meal using your mobile device, a Cafe kiosk, or with a staff member (remember: the aquarium is going cash-free).

Seating is available to patrons of the Cafe in the dining area, which the aquarium has reconfigured to maintain physical distancing. Some items from the sample menu include salads, bowls, tacos, and burgers, so there's something to satisfy everyone. Keep in mind that the aquarium does not allow any outside food or drink inside.
3. Shopping
To remember your time at the Monterey Bay Aquarium, head over to the Aquarium Store and grab a souvenir. If you have any questions, the attentive staff members are available to assist you. You can also check out the Aquarium's online store in advance. When you order online, you can either choose to pick up items during your visit, get items curbside outside the aquarium, or have your items shipped to you. The store carries a plethora of gifts inspired by and encouraging ocean conservation, from mugs to T-shirts to stuffed animals.
4. COVID safety measures
During your visit to the Monterey Bay Aquarium, you can relax knowing that the aquarium is taking extra precautions to ensure guest safety. Regardless of vaccination status, all guests ages three and older must wear a face covering while indoors. Although this policy is subject to change, the aquarium is taking extra measures to keep people safe. If you want, you can even buy an aquarium face covering! Additionally, the aquarium is encouraging guests to stay at least six feet apart from other guests in other parties and staff at all times and taking steps to limit the total capacity to help guests keep their distance. You can read more about the complete guest behavior guidelines.

Finally, the aquarium is strongly urging guests to stay home if they are feeling sick. For the health and safety of others, please stay home if you have a fever or cough. You must reschedule your ticket for another day, as you won't be permitted to enter the aquarium. Additional safety measures include limiting the number of entrances into the aquarium every hour, continuously cleaning throughout the day, and increasing fresh air circulation and utilizing a positive air pressure system.
5. About the Monterey Bay Aquarium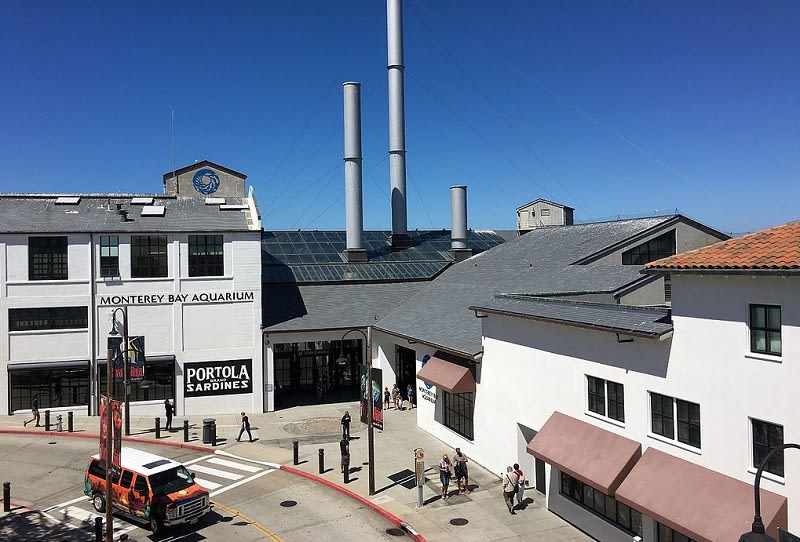 Credit: Wikipedia
If this is your first time visiting the Monterey Bay Aquarium, don't worry — we've pulled together some important information you should know!

The mission of the Monterey Bay Aquarium is to inspire conservation of the ocean. Located at the end of Cannery Row, this aquarium first opened its doors in 1984. Since then, the aquarium has inspired millions of visitors and become a leader in ocean conservation. Over the past 35 years, the aquarium has grown to become the home of more than 200 exhibits and 80,000 plants and animals. From sea otters to seaweeds, their unique oceanfront location and timeless galleries bring the wonders of the ocean to life for their visitors. Needless to say, it is a window to the wonders of the ocean.

But the impressive exhibits are just one part of what the aquarium does. Its scientists are rebuilding sea otter populations, transforming fisheries and aquaculture around the world, and working to protect California's ocean. From exciting exhibits to fun-filled activities for the whole family, the Monterey Bay Aquarium has something for everyone.
6. National Ocean Month
June is National Ocean Month, which is the perfect opportunity to appreciate the nation's waters by taking action to protect them. The aquarium strives to protect the ocean in a number of ways, but it has always provided ways for guests to also get involved in the fight to conserve the ocean. One such way is by contacting your elected representatives to support strong science-based laws and policies that protect the ocean. The aquarium also provides a myriad of other ways to advocate for the ocean, including reducing plastic pollution and learning the basics of seafood sustainability. Give some love back to the ocean!
7. Exhibits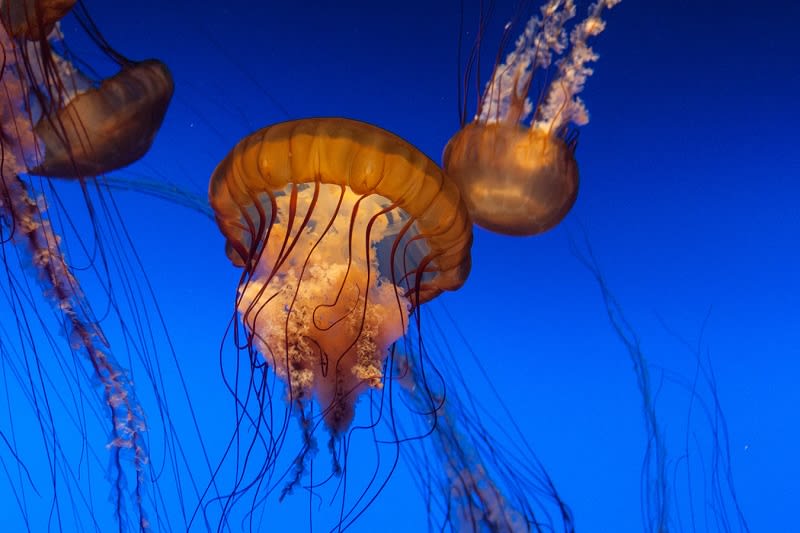 From playful sea otters to mesmerizing jellies and swirling sardines, you'll be amazed by everything the aquarium holds. For first-time visitors, it can be hard to know where to begin once you arrive. After all, the aquarium is home to over 200 exhibits! Here are a few of our favorites.
◾ The Kelp Forest exhibit allows visitors to discover an underwater forest of sardines, leopard sharks, wolf eels, and other fish that weave through swaying fronds of kelp. At 28 feet, the Kelp Forest is one of the tallest aquarium exhibits in the world. You'll get a diver's eye view of this impressive exhibit! If you want to get a sneak peek of what you can expect, take a look at the Kelp Forest live cam!
◾ The Life on the Bay exhibit offers guests an incredible vantage point from the ocean-view decks. This is just one of the perks of the aquarium's location perched on the edge of Monterey Bay! In fact, Monterey Bay is part of a National Marine Sanctuary that stretches all the way from Marin County to Cambri and encompasses a shortline length of 276 miles and 6,094 square miles of ocean. From here, you can often spot wildlife, which includes everything from sea otters to humpback whales. In the Marine Mammal Gallery, you can find life-size models of whales and dolphins that swim overhead. You can also learn about life on the bay. Take a look at the Monterey Bay cam!
◾ The Giant Pacific Octopus exhibit allows guests to catch a glimpse into the mysterious life of the bashful and beautiful giant Pacific octopus. Its personality is as complex as its appearance — this animal has the ability to change its skin color to blend in with the rocks around it. It's also a master of disguise that can solve a maze, recognize the aquarium's aquarists, and even has the power to jet across the exhibit in a whoosh of water. Other creatures in this exhibit include the fragile pink sea urchin, Johnson's sea cucumber, rockfish, and the purple sea urchin.
If you're looking to explore homes for sale along the Monterey Bay Peninsula, contact Jessica Canning today. Jessica is an expert in everything from Pebble Beach real estate to luxury Carmel homes. She is equipped and ready to help you find the home of your dreams.