Discovering Monterey Peninsula's Finest Clam Chowder
Monterey's historic Fisherman's Wharf is not only known for its picturesque views and charming atmosphere, but also for its delectable clam chowder. This classic comfort food has become a signature dish of the area, drawing locals and visitors alike. Clam chowder stands out as a must-try dish for locals and visitors. In this post, we will embark on a flavorful journey to discover the best clam chowder spots in Monterey, Pacific Grove and Carmel – exploring what makes each place a culinary gem.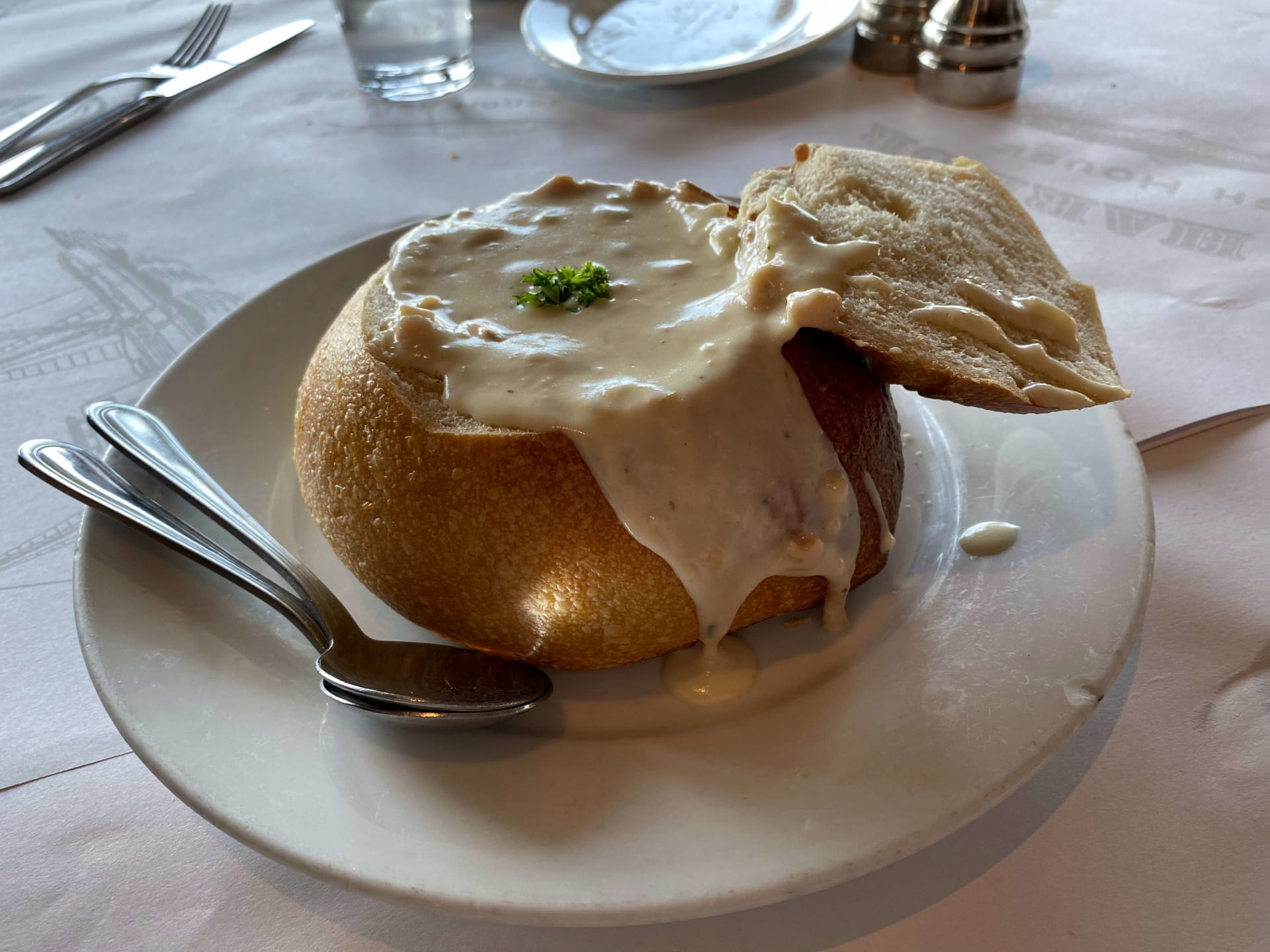 Monterey
Old Fisherman's Grotto:
Located on the wharf itself, Old Fisherman's Grotto is a beloved seafood restaurant that has been serving customers since 1950. Their clam chowder is a true standout, boasting a rich and creamy texture. What sets it apart is the abundance of fresh clams, giving the soup a robust flavor. The chowder is served in a sourdough bread bowl, which adds an extra touch of deliciousness. Enjoy your meal while taking in panoramic views of the harbor.
Fish Hopper:
Situated just a short stroll from Fisherman's Wharf, Fish Hopper is a waterfront restaurant known for its impeccable seafood dishes, including their famous clam chowder. Their version is velvety and loaded with tender clams, potatoes, and aromatic herbs. The generous portion size and perfectly seasoned broth make it an instant favorite. Pair it with their warm sourdough bread for an indulgent experience.
The Whaling Station Steakhouse:
While primarily known for their succulent steaks, The Whaling Station Steakhouse surprises diners with their exceptional clam chowder. This upscale restaurant, nestled near the wharf, offers a more refined take on the classic dish. The chowder is elegantly presented with a garnish of fresh herbs, creating a visually appealing masterpiece. The delicate balance of flavors, achieved through the careful blending of spices, enhances the natural sweetness of the clams.
Domenico's on the Wharf:
Domenico's on the Wharf, a family-owned Italian restaurant, serves a clam chowder that pays homage to its culinary roots. This hearty and flavorful soup combines the best of both worlds - the creaminess of traditional clam chowder and the richness of Italian cuisine. The addition of herbs, spices, and a hint of garlic adds a unique twist to the dish. Pair it with a glass of local wine for a truly satisfying meal.
The Sandbar & Grill:
Located right on the waterfront, The Sandbar & Grill offers a relaxed and friendly atmosphere, perfect for enjoying a bowl of piping hot clam chowder. Their version stands out with its smooth and velvety consistency. The chowder is loaded with tender clams, chunks of potatoes, and celery for added texture and flavor. The Sandbar & Grill's clam chowder is the epitome of comfort food that will warm your soul.
Pacific Grove
Passionfish:
While not solely a clam chowder establishment, Passionfish is known for its commitment to sustainable seafood and innovative culinary creations. Their clam chowder is a true testament to their dedication. This award-winning restaurant serves a delectable rendition of the classic chowder, featuring fresh clams, aromatic herbs, and a rich, creamy base. Passionfish's focus on responsibly sourced ingredients ensures that every bite is an ethical and delicious delight.
Red House Café:
Tucked away in Pacific Grove's downtown area, the Red House Café is a local favorite known for its cozy atmosphere and exceptional cuisine. Their clam chowder is a standout dish, capturing the essence of comfort food. Creamy, flavorful, and loaded with tender clams, this chowder is the perfect companion on a chilly coastal day. Pair it with their freshly baked bread, and you have a match made in culinary heaven.
Carmel
The Village Corner:
Located in the heart of Carmel-by-the-Sea, The Village Corner is a beloved European-style bistro that delights diners with its warm ambiance and delicious fare. Their clam chowder is a crowd-pleaser, showcasing a velvety texture, generous portions of clams, and hints of herbs and spices. The Village Corner's commitment to using local and seasonal ingredients adds an extra touch of freshness to their flavorful chowder.
Mission Ranch:
Situated amidst the breathtaking scenery of Carmel Point, Mission Ranch offers an unparalleled dining experience. Their clam chowder is a standout, characterized by a luscious consistency and the perfect balance of flavors. Made with locally sourced ingredients, including succulent clams and creamy potatoes, this chowder embodies the essence of coastal comfort cuisine. Enjoy it while soaking in the rustic charm of Mission Ranch's historic property.
Conclusion:
From the bustling Fisherman's Wharf in Monterey to the charming streets of Pacific Grove and Carmel-by-the-Sea, this coastal region offers a plethora of dining options that serve up some of the best clam chowder you'll ever taste. Each establishment mentioned, brings its own unique twist to this classic dish. Whether you prefer a traditional recipe or an innovative take, one thing is certain: a bowl of piping hot clam chowder in Monterey, PG, or Carmel is a culinary experience that will leave you craving more.
Photo by Kevin Lanceplaine on Unsplash