As a pet owner, it can be a challenge to find places that will welcome your beloved furry friend. Looking for a fun, pet-friendly getaway? How about enjoying the gorgeous scenery of Carmel Beach, where your pup can frolic freely? Want a good drink along the way? You can pay a visit to some fantastic breweries that will happily welcome your furry friend.

Whatever your dreams are for the ideal summer, you can find that and more when you pay a visit to any of these warm, friendly spaces that are open to pets as well as humans. Make sure to bring your camera and snap some fun pictures along the way!
1. Jack's Peak
Wanting to go on a hike with your dog? Itching to hit the trails and explore the mountains? Or how about going for a ride on your horse? Jack's Peak Regional Park, located in Monterey, is just the place for any of these activities! On its animal-friendly paths and horseback riding trails, you can make special memories while enjoying the great fresh air. As you traverse up these trails through the pine forest, you will discover breathtaking views of the world below. Along the way, there are plenty of picnic tables and benches to enjoy some delicious food with your family, friends, and fellow hikers. If you're in the mood for a barbecue, you will be happy to note there are grills located along the trails as well. For our bird-watching friends, there is an amazing and vibrant array of bird species in Jack's Peak Park. Trust us—these beautiful views will capture your imagination and leave you with memories that will last a lifetime. Whatever your plans for the summer, make sure you mark this amazing park on your list!
2. Mission Trails Park
Want to take a fun camping weekend with friends? Looking to sleep under the stars, make some s'mores, and enjoy great company and food together? Or are you looking to take a guided tour and hike through the mountains? If so, Mission Trails Park offers all that and more.

With around 7200 acres of natural beauty, this park located near San Diego is the hiker's dream! What's more, this is the perfect place to bring your pet along for the journey. With over 40 miles of trails, you and your furry companion can enjoy the sunshine and get plenty of exercise together. This large, incredible park has a lake, an amazing visitor's center filled with the history and culture of the surrounding area, and campgrounds (which are available for reservations on weekends only). Here you can discover plenty to see, do, and explore without ever having to leave your beloved pet at home.

So what are you waiting for? Grab your sunscreen, your hiking shoes, and your dog! There's no time like the present to explore these thrilling trails.
3. Carmel Beach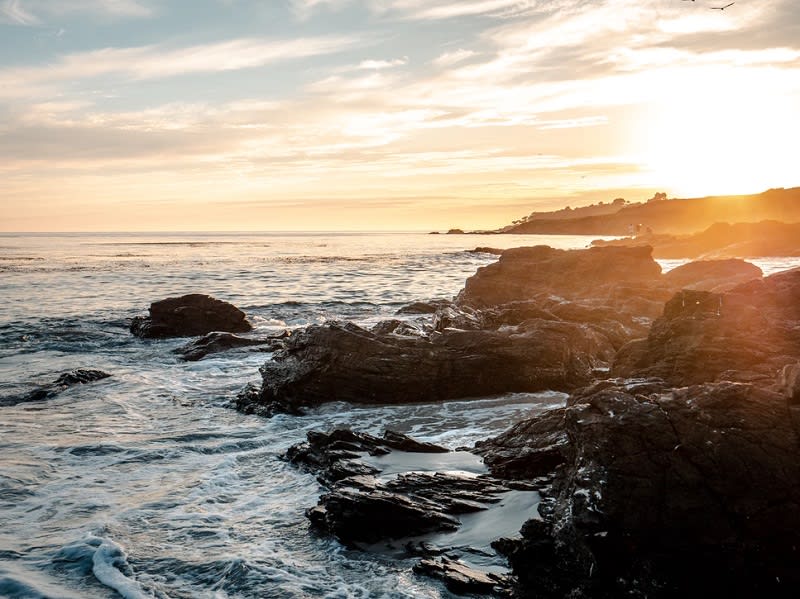 Nothing quite says 'relaxation' like the white sandy beaches and sparkling blue water of Carmel Beach. It is an absolute must-see for anyone living in the area or passing by, and it's famous for being incredibly pet-friendly. Dogs are allowed to run around without a leash as long as they respond to their owner's voice commands. With that said, guests are heartily encouraged to enjoy the sunshine and the waves with their canine companions. Whether your plans are to lay out on a blanket and read an exciting book, get your suntan on, or soak up that beautiful sunset, you won't want to miss all Carmel Beach has to offer. Bring some snacks, cold drinks, and dog treats to top off the perfect vacation day!
4. Garland Ranch
Known for its pet-friendly and welcoming atmosphere, Garland Ranch Regional Park is among the best places to take your favorite critters this summer. Established in 1975 and named after the nature lover William Garland, this recreational parkland is filled with beautiful walkways, rugged and exquisite scenery, and all kinds of wildlife in their natural habitats. Run by volunteer staff, Garland Ranch also offers a visitors center where more information and resources surrounding the park are available.

Here you can enjoy horseback riding, hiking on the trails, birdwatching the amazing avian species, walking, jogging, and spending some quality outdoor time with your pet. Dogs are allowed to be off-leash as long as they follow their owner's voice commands, and they can also swim in the Carmel River. There's a wide variety of dog-friendly trails to explore together. If you are looking for a great way to make memories this summer, you certainly won't be disappointed with a visit to the fantastic Garland Ranch!
5. Basil Restaurant
If you're simply looking for a scrumptious meal, make sure you stop by Basil, which is known for both its delicious Italian and vegetarian/vegan food as well as its pet-friendly environment. You and your special friend can savor a splendid feast while enjoying all this spot has to offer. Choose from indoor and outdoor seating and order from a fully stocked bar with the finest selection of diverse and exciting drinks. While this restaurant holds a unique place in many patrons' hearts for its welcoming atmosphere, excellent service, and pet-friendly policies, it is truly the food that keeps guests coming back again and again. Lunch and dinner are served from noon to 8 p.m., and the restaurant is closed on Mondays.
6. From Scratch Restaurant
Searching for the perfect brunch spot or craving food that's good as homemade? From Scratch offers all this and more. With an incredible selection of menu items, there's sure to be something here that will make everyone's tummy happy! Trust us—you won't leave hungry. There's coffee, pancakes, cocktails, wraps, sandwiches, soups, salads, and burgers — just to name a few menu items. Because From Scratch uses only the finest and freshest ingredients in all their cooking, you can rest assured your meal will taste just as delicious as you dreamed.

Established in 1977, this restaurant was born from a lot of heart, gusto, and the love of family. From Scratch offers a welcoming dining experience where you will truly feel like you are right at home. If that weren't enough, there are also pet-friendly tables available for you and any furry friends you may bring along.
7. Cypress Inn
Looking to book the perfect hotel for your vacation to Carmel-by-the-Sea? Want an experience renowned for its elegance and excellent service? You simply must stay at Cypress Inn. This gorgeous, legendary hotel is open to guests for lodging and dining. At one of the most pet-friendly places in the US, you can soak up the Mediterranean aesthetic of the establishment while dining on the finest cuisine, getting all the sleep you need in one of the beautiful rooms, and bringing your pet with you wherever you may go. With its graceful features, amazing food, and first-class rooms, you'll make the most of your vacation and feel completely relaxed while staying at Cypress Inn.
Forge in the Forest Restaurant
8. Forge in the Forest Restaurant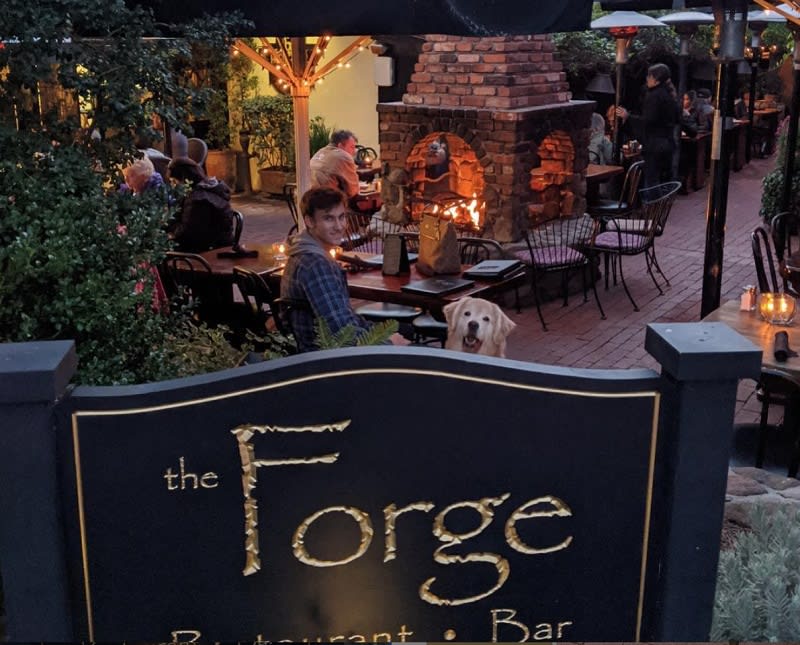 With a mouthwatering assortment of items on the menu, Forge in the Forest specializes in American food and provides guests (and their pets!) with the best dining experience imaginable. You can find everything from the Forge burger to chicken parmesan on their menu. Feeling thirsty? How about ordering a glass of wine or a cocktail to accompany your meal? Surrounded by plants and nature, you'll get a fun and exciting glimpse of the great outdoors as you dine. Not only does Forge in the Forest pride itself on its welcoming staff and unique aesthetic, but it's also pet-friendly. Make your reservation today!
9. Other Brother Beer
Other Brother Beer is just the place for a fantastic drink and a fun evening with friends — and you can bring your pet, too! Currently open for indoor and outdoor dining, this brewery and taproom offers a large selection of drinks. If you're feeling hungry, try the pizza, pretzels, or other snacks. With its warm and friendly staff, this taproom celebrates the powerful act of bringing people together by creating a place where friends (and those who aren't friends yet) can gather to tell stories, be inspired, and enjoy an all-around good time.
10. Little Napoli
Calling all lovers of Italian food! Little Napoli offers a delicious array of pasta, pizza, and antipasti. A place of warm hospitality, this restaurant is an ideal place to make memories with your loved ones. Known for its charm, heart, and delicious food, Little Napoli promises an exquisite dining experience and lives up to that promise. It is now open for indoor dining, so make your reservation today!


If you want to explore Carmel by the Sea real estate, contact Jessica Canning today. As one of the top realtors in the area, Jessica serves a wide range of communities. She is an expert in everything from ocean view homes for sale in Carmel, CA, to luxury Pebble Beach homes.