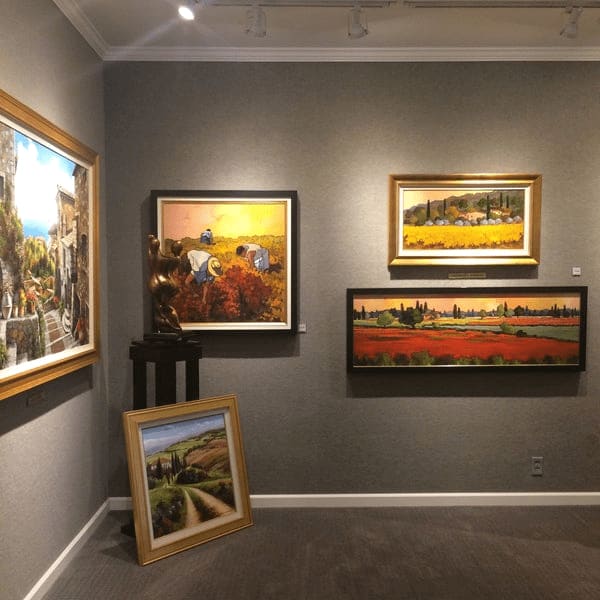 Along with its stunning scenery, fine dining, and world-class golfing, Carmel is renowned for its incredible variety of art galleries. With over 80 to choose from, there's something in this town for every art lover to enjoy! Take a self-guided tour through the amazing art galleries of Carmel using a guide on your phone, or simply browse at your leisure. Either way, you're sure to have the time of your life admiring the pieces at these fabulous Carmel art galleries.
Since 1992, this European-inspired gallery owned by Jovan and Sanyva Micovic has been showcasing gorgeously traditional oil paintings and sculptures. The owners drew on their European heritage and knowledge of fine art to create an incredible collection of pieces, and the gallery today is renowned for its high quality and value. In 2002, the Classic Art Gallery expanded to a second location on Ocean Avenue due to growing popularity. The cozy gallery space hosts a number of exciting events throughout the year, including a Holiday Miniatures Exhibit during December, an annual Tribute to Fine Art held each fall, and special showcases for up-and-coming artists.
This celebration of the stunning and powerful Pacific Coast has been a Carmel fixture since 1990. Sweeping vistas from across Big Sur, Monterey, Carmel, Pebble Beach, and Pacific Grove are featured in Gallery Sur, as well as gorgeous art from a variety of international destinations. Located in the heart of downtown Carmel, Gallery Sur is known for its eye-catching front window, which showcases iconic regional photography. This is the perfect art gallery to visit if you're looking to revel in California's beauty—golfers can browse a selection of beautiful Pebble Beach and Cypress Point prints to connect with their favorite courses.
But Gallery Sur isn't just a Californian gallery—visitors can also view unique stone sculptures from Zimbabwe and other refined African stonework. Gallery Sur prides itself on its contemporary naturalism focus, as well as its community outreach, regularly participating in local fundraising events.
This art gallery, located in Carmel since 1993, specializes in contemporary and modern art. Pieces include sculptures, prints, and drawings, all done by incredibly skilled American and European masters. View works by acclaimed artists like Henri Matisse, Pablo Picasso, Wayne Thiebaud, and Chuck Close in Dawson Cole's sleek and beautiful gallery. Many of the paintings portray Carmel's vast natural beauty, including famous sights like Pebble Beach's golf courses, Wine Country, and other legendary Californian locations such as Laguna Beach and Dana Point seascapes.
This graceful and intimate gallery presents a stunning selection of classical paintings and sculptures created by over fifty acclaimed artists from both California and around the world— and some up-and-comers as well. Owned by Barbara Jones and Patricia Terwilliger, this renowned gallery features incredible life-size bronze figures and American and European landscapes in both realistic and impressionistic styles. The gallery is also home to an impressive display of paintings from English, Spanish, Italian, and Chinese artists. Visitors can enjoy live demonstrations by painters and sculptures throughout the year and other special events and exhibits to shine a spotlight on local artists.
If you need any help navigating the Carmel luxury real estate market, contact
Canning Properties
today. Our team of experienced real estate agents will be happy to help you find the luxury Monterey or Carmel home of your dreams!